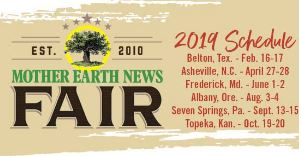 The Next Fair is in North Carolina!!
Asheville NC - April 27 - 28
Sit in on dozens of practical workshops from
the leading authorities on modern homesteading,
animal husbandry, gardening, real food and more!!
What a great opportunity to learn how to get more from
your Hobby Farm or Homestead.
For more information: https://www.motherearthnewsfair.com/